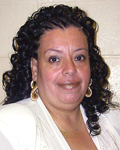 Gladys Santiago

Party Enrolled In: Democratic
Current Occupation: working with the community
Previous Occupation(s): home health aid
Education: Bushwick High School and N.Y.C.C.C.
Organizational Affiliations: Community Board #1, 4 and 5. Make the Road New York and 7a Administer by the courts.
Prior Public Experience: District Leader in the 54th in 2002 Assembly District and a Delegate to the Democratic Party in Brooklyn in Nov. 1986
1. What is the most important issue in Council District 34 you would address if elected?
Affordable, safe housing also Child Care to better the health program, balance the working family for a better future, the Seniors needs the right to choose the best treatments. And most of all we can't forget our Youth's we must make a better tomorrow for them and to fight to keep the fire house open, and to fight for our right to get school funds, keep the senior center open.
2. What other important issues would you address if elected?
I will keep and do my best to bring better health care for the children and Seniors to strengthening our community to be in good health and education to success in school and make sure their are Jobs for them went they finish School.
3. What makes you the best candidate for this office?
I'm always fighting for affordable housing, child care, education,jobs and to make my community safe. I'm always there went they need me i never say no to anyone. I try my best to bring programs if i Win this Election, i would make the best Candidate for this office because i never say no to anyone. and i wii be there Win or Loss This is why i make the best candidate.
Reprinted as supplied by the candidate. Participating in the Campaign Finance Program.
This Guide lists all candidates who appear to be on the ballot for the general election based on the latest information obtained from the New York City Board of Elections, even if a candidate did not submit a profile or record a video for the Guide. Profiles and video scripts were submitted to the CFB by the candidates and are reprinted as supplied, except in the case of egregious errors and minor formatting issues, which may be corrected by the CFB. Videos appearing in this Guide were recorded and approved for broadcast by the candidates. All the candidates have affirmed under penalty of perjury that the information in their profiles and videos is true to the best of their knowledge. Website and social media links were supplied by the candidates. The CFB is not responsible for non-working links, although it does correct or remove them to the extent practicable. The CFB removes links that are not campaign-related.
The views expressed in the candidate profiles, videos, and linked materials do not represent those of the New York City Campaign Finance Board.
View Candidate Submission Disclaimer