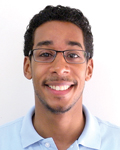 Antonio Reynoso
Democratic, Working Families

Party Enrolled In: Democratic
Current Occupation: Chief of Staff, NYC Council Member Diana Reyna
Previous Occupation(s): Community Organizer
Education: Le Moyne College, Syracuse NY, BS in Political Science
Organizational Affiliations: New Kings Democrats
Prior Public Experience: Before serving as Chief of Staff to Council Member Diana Reyna, I worked as a community and labor organizer for child care workers across New York City.
1. What is the most important issue in Council District 34 you would address if elected?
Working families are struggling to pay bills and keep up with rising costs. That's why from day one, I'll work on improving New York's economy by fighting for living-wage jobs, and expanding opportunities for affordable housing. New York City must remain a place of opportunity, where families like mine can work hard and build a better life for their children. I'll use every tool at my disposal to achieve equitable and sustainable solutions.
2. What other important issues would you address if elected?
As Council Member, I will fight for our children and seniors across to ensure they have a voice in City Hall. I'll work on improving the infrastructure of our public schools and expand on the funding necessary for early childhood education. I am committed to ensuring that seniors have the financial security they need to live with dignity. Also, I'll invest in senior center's services for seniors on fixed incomes. Send me to City Hall, and I'll ensure government works for everyone - not just the wealthy and well-connected.
3. What makes you the best candidate for this office?
I was born and raised in this community and am focused on serving the people of the 34th District. I've lived and worked here my whole life, so I know our community and its challenges better than anyone. I know we need more affordable housing, better schools, and robust employment opportunities to ensure New York City remains a land of opportunity for everyone. Our community deserves strong leadership that has integrity and experience to deliver for the neighborhoods of Williamsburg, Bushwick and Ridgewood.
Reprinted as supplied by the candidate. Participating in the Campaign Finance Program.
This Guide lists all candidates who appear to be on the ballot for the general election based on the latest information obtained from the New York City Board of Elections, even if a candidate did not submit a profile or record a video for the Guide. Profiles and video scripts were submitted to the CFB by the candidates and are reprinted as supplied, except in the case of egregious errors and minor formatting issues, which may be corrected by the CFB. Videos appearing in this Guide were recorded and approved for broadcast by the candidates. All the candidates have affirmed under penalty of perjury that the information in their profiles and videos is true to the best of their knowledge. Website and social media links were supplied by the candidates. The CFB is not responsible for non-working links, although it does correct or remove them to the extent practicable. The CFB removes links that are not campaign-related.
The views expressed in the candidate profiles, videos, and linked materials do not represent those of the New York City Campaign Finance Board.
View Candidate Submission Disclaimer