Candidate
* If there is an asterisk next to a candidate's name, s/he did not submit a profile or record a video.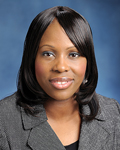 Vanessa L. Gibson

Party Enrolled In: Democratic
Current Occupation: Member of the NYS Assembly, 77th District, Bronx County. Elected in a special election in June 2009.
Previous Occupation(s): Intern, Legislative Aide, District Office Manager for former Assemblywoman Aurelia Greene.
Education: Master's in Public Administration, CUNY Baruch College, Bachelor of Arts in Sociology, SUNY Albany.
Organizational Affiliations: Female District Leader, 77th District, Member, Bronx Democratic County Committee, Executive Member, Bronx Unity Democratic Club.
Prior Public Experience: N/A
1. What is the most important issue in Council District 16 you would address if elected?
Jobs! Economic Development which creates employment opportunities to strengthen families and provide long term sustainability. The Bronx continues to experience high unemployment and I am committed to supporting projects that provide jobs that pay union and prevailing wages so men and women can afford to live & take care of their families.
2. What other important issues would you address if elected?
Education is the gateway to the future and will allow our youth to be the successful leaders they deserve to be. Early education, full day pre-kindergarten, daycare, mentoring programs, after-school, recreational programs & a re-focus on trades and vocational instruction, all serve as major components to provide academic enrichment for our school children. Housing is a right & not a luxury and I am committed to supporting incentives and creative approaches to promote affordable housing for homeless families, domestic violence victims, seniors, youth aging out of foster care & disabled veterans to name a few.
3. What makes you the best candidate for this office?
While being a legislator for 4 years, I have over 10 years of experience in state government which I believe will be an asset in the City Council. The growth I have experienced as a policy maker and working with colleagues, advocates, educators, labor leaders, clergy & constituents on issues of mutual concern is an opportunity to continue to serve in the best interests of my constituents as a Member of the City Council.
Reprinted as supplied by the candidate. Participating in the Campaign Finance Program.
This Guide lists all candidates who appear to be on the ballot for the general election based on the latest information obtained from the New York City Board of Elections, even if a candidate did not submit a profile or record a video for the Guide. Profiles and video scripts were submitted to the CFB by the candidates and are reprinted as supplied, except in the case of egregious errors and minor formatting issues, which may be corrected by the CFB. Videos appearing in this Guide were recorded and approved for broadcast by the candidates. All the candidates have affirmed under penalty of perjury that the information in their profiles and videos is true to the best of their knowledge. Website and social media links were supplied by the candidates. The CFB is not responsible for non-working links, although it does correct or remove them to the extent practicable. The CFB removes links that are not campaign-related.
The views expressed in the candidate profiles, videos, and linked materials do not represent those of the New York City Campaign Finance Board.
View Candidate Submission Disclaimer