Candidate
Christopher R. Giattino*
* If there is an asterisk next to a candidate's name, s/he did not submit a profile or record a video.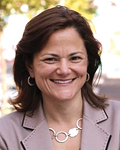 Melissa Mark Viverito
Democratic, Working Families

Party Enrolled In: Democratic
Current Occupation: New York City Councilwoman, 8th Council District.
Previous Occupation(s): Strategic Organizer for 1199 SEIU United Healthcare Worker's East; Director of the Hispanic Education and Legal Fund (HELP); Deputy Director of ASPIRA of New York
Education: Columbia University, BA; Baruch College, MPA; National Urban Fellow
Organizational Affiliations: NY City Council Progressive Caucus, co-founder and co-Chair; NY City Council Parks Committee, Chair; Women of El Barrio, founding member; Community Board 11, past member; Community Board 2, past member
Prior Public Experience: Elected to the New York City Council in 2005 and 2009
1. What is the most important issue in Council District 08 you would address if elected?
I currently represent the most affordable and rent stabilized housing units of any member of the city council. Though there are many issues and policy items that are important to me, I am running for re-election in order to continue my work as the voice to protect housing affordability.

2. What other important issues would you address if elected?
I have fought hard to ensure our students have the best facilities available to get a great education and have been successful keeping closing schools open, directing over $5 million to district schools and securing science labs, playgrounds and technology upgrades for 40 of our schools. But there's still more to do. I am running for re-election so I can continue to go to the mats for the young people in my district.

3. What makes you the best candidate for this office?
From affordable housing, to paid sick leave, to good schools and open government, there is no one on this race with the experience and progressive track record to represent the Bronx and Manhattan communities in my district.

Reprinted as supplied by the candidate. Participating in the Campaign Finance Program.
This Guide lists all candidates who appear to be on the ballot for the general election based on the latest information obtained from the New York City Board of Elections, even if a candidate did not submit a profile or record a video for the Guide. Profiles and video scripts were submitted to the CFB by the candidates and are reprinted as supplied, except in the case of egregious errors and minor formatting issues, which may be corrected by the CFB. Videos appearing in this Guide were recorded and approved for broadcast by the candidates. All the candidates have affirmed under penalty of perjury that the information in their profiles and videos is true to the best of their knowledge. Website and social media links were supplied by the candidates. The CFB is not responsible for non-working links, although it does correct or remove them to the extent practicable. The CFB removes links that are not campaign-related.
The views expressed in the candidate profiles, videos, and linked materials do not represent those of the New York City Campaign Finance Board.
View Candidate Submission Disclaimer