Candidate
Christopher R. Giattino*
* If there is an asterisk next to a candidate's name, s/he did not submit a profile or record a video.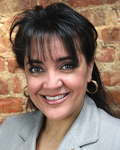 Ralina Cardona

Party Enrolled In: Democratic
Current Occupation: Entrepreneur-transformative behavior and community development
Previous Occupation(s): Singer, producer
Education: Fieldston High School, Boston University-School of Fine Arts, Berklee College of Music, Weatherhead School of Management at Case Western Reserve University, CUNY School of Professional Studies.
Organizational Affiliations: New York State Director-League of United Latin American Citizens, Chairperson-Neighborhood Association for Inter-Cultural Affairs, Treasurer-East Harlem Business Capital Corp., Trustee-Boricua College, Member- New York Yankee Council, Member Board of Advisors American Cancer Society-Bronx Region
Prior Public Experience: Judicial Delegate
1. What is the most important issue in Council District 08 you would address if elected?
District 8 has one of the highest saturations of public and subsidized housing in the country. Housing not only provides necessary shelter, it should build economic and demographic growth to make our district a vibrant community.
2. What other important issues would you address if elected?
Local Economy-I will develop a strategy focused on helping our local entrepreneurs become more successful to bring more wealth into the community.
Youth-"Our Youth Are Not Bad...They Are Bored" If we don't keep them busy others will.
Education- Create strategic partnerships to build curriculums that stimulate and encourage learning
Health-Address the epidemic of disseases by preventive medical options and interventions
Elderly-They took care of us, we must take care of them
3. What makes you the best candidate for this office?
I was born and raised in the district. I chose to stay, I own a home on the block where I grew up. I lived through the South Bronx Fires and helped rebuild the district. My service and love of my community, training and global initiatives have prepared me for this position.
Reprinted as supplied by the candidate. Participating in the Campaign Finance Program.
This Guide lists all candidates who appear to be on the ballot for the general election based on the latest information obtained from the New York City Board of Elections, even if a candidate did not submit a profile or record a video for the Guide. Profiles and video scripts were submitted to the CFB by the candidates and are reprinted as supplied, except in the case of egregious errors and minor formatting issues, which may be corrected by the CFB. Videos appearing in this Guide were recorded and approved for broadcast by the candidates. All the candidates have affirmed under penalty of perjury that the information in their profiles and videos is true to the best of their knowledge. Website and social media links were supplied by the candidates. The CFB is not responsible for non-working links, although it does correct or remove them to the extent practicable. The CFB removes links that are not campaign-related.
The views expressed in the candidate profiles, videos, and linked materials do not represent those of the New York City Campaign Finance Board.
View Candidate Submission Disclaimer