Democratic
* If there is an asterisk next to a candidate's name, s/he did not submit a profile or record a video.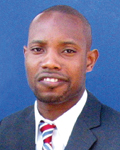 Christopher Banks
Party Enrolled In: Democratic
Current Occupation: Christopher Banks is the Executive Director /Founder East New York United Concerned Citizens, Inc.
Previous Occupation(s): Former Director of Louis H. Pink Cornerstone Beacon Program, Youth Liaison of the PAL In Step Program
Education: CUNY of John Jay College, Government Major
Organizational Affiliations: ENY Coalition, Van Siclen Block Association, Inc. East New York, Brownville Non- profit Commission, Thomas Jefferson Democratic Club, 218 PAL Beacon Advisory Board, Pink Houses Community Center Advisory Board, National Association of Black Business and Professional Women's Club Youth Division (Brooklyn Club), Project Mentor Council, Inc., Arts East New York, Inc., WE the Kids, Inc., East New York United Concerned Citizens, Inc. 75TH Precinct Police Council, Seniors for East New York.
Prior Public Experience: Community Board # 5, Democratic County Committee member, Alternate- Judicial Delegate for Democratic County, Former NYS Assembly Candidate
1. What is the most important issue in Council District 42 you would address if elected?
My main concern in regards to the 42nd district is the transparent and unacceptable lack of economic development.

My plan of action will ensure that community residents receive a living wage and that local job creation and venues for local business will flourish. This is the only way to bring about sustainable economic development.
2. What other important issues would you address if elected?
As it stands public records show that the 42nd Council District in particular is oversaturated with shelters by a statistically unsettling degree. We must provide the homeless with quality affordable housing. We must invest in our community existing public land space which will help bring jobs in a comprehensive and environmentally friendly way. More real affordable housing according to our communities' medium incomes is the only answer. Other issues include increased access to public transportation, creation of new youth and senior community centers, and improved educational facilities and libraries.
3. What makes you the best candidate for this office?
I have lived in the 42nd my entire life and I have seen no change. I am committed to helping to create a bigger, brighter and better community. We must move forward together.
Reprinted as supplied by the candidate. Participating in the NYC Campaign Finance Program.
This Guide lists all candidates who appear to be on the ballot for the primary election based on the latest information obtained from the New York City Board of Elections, even if a candidate did not submit a profile or record a video for the Guide. Profiles and video scripts were submitted to the CFB by the candidates and are reprinted as supplied, except in the case of egregious errors and minor formatting issues, which may be corrected by the CFB. Videos appearing in this Guide were recorded and approved for broadcast by the candidates. All the candidates have affirmed under penalty of perjury that the information in their profiles and videos is true to the best of their knowledge. Website and social media links were supplied by the candidates. The CFB is not responsible for non-working links, although it does correct or remove them to the extent practicable. The CFB removes links that are not campaign-related.
The views expressed in the candidate profiles, videos, and linked materials do not represent those of the New York City Campaign Finance Board.
View Candidate Submission Disclaimer