Candidate
Jose A. Colon*

Selsia Evans*
* If there is an asterisk next to a candidate's name, s/he did not submit a profile or record a video.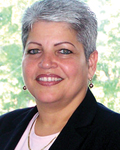 Maria del Carmen Arroyo

Party Enrolled In: Democratic
Current Occupation: New York City Council Member - 17th District, Bronx (2005 - Present).
Previous Occupation(s): Administrator with nearly 30 years of managerial experience. Prior to serving in the City Council, was Executive Director at Segundo Ruiz Belvis D&TC where she began as a receptionist. Served as Director of Operations for Narco Freedom, Inc., Division of Health Care Services. Served as Executive Director of the South Bronx Community Corporation, a volunteer position.
Education: Honorary Doctorate in Humane Letters - Metropolitan College of New York, June 2013; Masters of Public Administration - New York University, Robert Wagner Graduate School of Public Service, May 1994; Bachelor's Degree in Health Services Administration, Herbert H. Lehman College, CUM LAUDE, 1991; Associate in Arts, Eugenio Maria de Hostos Community College, January 1989.
Organizational Affiliations: None
Prior Public Experience: Nearly 25 years of public service prior to the 2005 election to the New York City Council plus eight years serving as Council Member representing the 17th District.
1. What is the most important issue in Council District 17 you would address if elected?
Three of the most pressing are; helping to mitigate the negative environmental impact the many waste transfer stations, the DEP sewage water treatment plant and the sewage treatment facility have on the community; the need for affordable housing for senior citizens and working families; providing opportunities to make our public housing developments safer for residents and the surrounding communities by designating capital funding for the installation of security cameras; and designating capital funding to upgrade our community parks.
2. What other important issues would you address if elected?
Other issues include the need to make available more green open spaces, parks and recreational facilities; job training and readiness programs for the unemployed and underemployed; improving technology in our schools; and working on police/community relations.
3. What makes you the best candidate for this office?
I have lived and worked in the community I represent for 46 years and have a deep commitment to providing the best level of service to my neighbors. I have great ability to work in collaboration with all stakeholders affected by issues or concerns and have a collaborative approach to problem solving and negotiations.
Reprinted as supplied by the candidate. Participating in the Campaign Finance Program.
This Guide lists all candidates who appear to be on the ballot for the general election based on the latest information obtained from the New York City Board of Elections, even if a candidate did not submit a profile or record a video for the Guide. Profiles and video scripts were submitted to the CFB by the candidates and are reprinted as supplied, except in the case of egregious errors and minor formatting issues, which may be corrected by the CFB. Videos appearing in this Guide were recorded and approved for broadcast by the candidates. All the candidates have affirmed under penalty of perjury that the information in their profiles and videos is true to the best of their knowledge. Website and social media links were supplied by the candidates. The CFB is not responsible for non-working links, although it does correct or remove them to the extent practicable. The CFB removes links that are not campaign-related.
The views expressed in the candidate profiles, videos, and linked materials do not represent those of the New York City Campaign Finance Board.
View Candidate Submission Disclaimer