Candidate
Robert Diamond*
* If there is an asterisk next to a candidate's name, s/he did not submit a profile or record a video.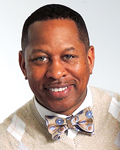 Andy L. King
Democratic, Working Families

Party Enrolled In: Democratic
Current Occupation: New York City Councilmember, 12th District
Previous Occupation(s): Community Organizer
Education: Evander Childs High School, B.A. in Communications from William Paterson University.
Organizational Affiliations: 1199 SEIU Member; Former Member DC 37 Local 371; Working Families Party; African American Caucus of SEIU; NAACP Member Williamsbridge Chapter; 47th Precinct Clergy Coalition
Prior Public Experience: Incumbent New York City Councilmember, Member of NYPD 47th Community Council, Volunteer Director of the Bronx YEP, Program Director Special Olympics NY, Former President of Parent Advisory Committee of Crawford Day Care Center, Founding member of the Bronx Youth Uptown Developers Coalition
1. What is the most important issue in Council District 12 you would address if elected?
Youth and Education Services.
2. What other important issues would you address if elected?
Advocating for Senior Services; access to Affordable Healthcare and Housing; the public safety of our neighborhoods; small business development; and living wage jobs.
3. What makes you the best candidate for this office?
Within six months of taking office I have co-sponsored the Community Safety Act, added $300,000 to the NAACP's Williamsbridge Early Childhood Center, and allocated over $800,000 in funding to programs which provide nutritional assistance to residents of the community. I have also held a number informational workshops to save residents homes (i.e. home foreclosures and tax lien workshops). In addition I have held a number of neighborhood forums to keep our community informed and engaged (i.e. Small Business forum, NYPD Community Relations Workshop, and Youth Empowerment forums). My office has also assisted over 300 community residents with their citizenship paperwork. I have also worked with a number of city agencies to maintain senior services, affordable housing, and traffic and public safety concerns. Finally, my commitment to the community that educated and raised me will always be the motivating factor in staying true to the service required in representing the residents of the 12th District of the Bronx.
Reprinted as supplied by the candidate. Participating in the Campaign Finance Program.
This Guide lists all candidates who appear to be on the ballot for the general election based on the latest information obtained from the New York City Board of Elections, even if a candidate did not submit a profile or record a video for the Guide. Profiles and video scripts were submitted to the CFB by the candidates and are reprinted as supplied, except in the case of egregious errors and minor formatting issues, which may be corrected by the CFB. Videos appearing in this Guide were recorded and approved for broadcast by the candidates. All the candidates have affirmed under penalty of perjury that the information in their profiles and videos is true to the best of their knowledge. Website and social media links were supplied by the candidates. The CFB is not responsible for non-working links, although it does correct or remove them to the extent practicable. The CFB removes links that are not campaign-related.
The views expressed in the candidate profiles, videos, and linked materials do not represent those of the New York City Campaign Finance Board.
View Candidate Submission Disclaimer