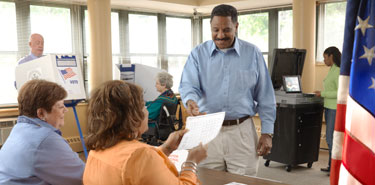 1 | Get Your Ballot
»
Go to your designated poll site, sign in, and get your paper ballot and voter card from the poll worker.
»
A privacy sleeve will be provided to shield your ballot from view after you have marked it.
»
Go to the privacy booth or request to use the ballot marking device (BMD).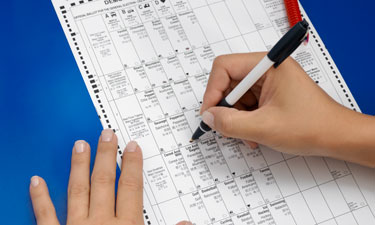 2 | Mark Both Sides of Your Ballot
»
Mark your ballot by completely darkening the oval next to your choice using the pen provided.
»
Do NOT use an "X" or a "√", circle the oval, or make stray marks on the ballot.
»
For a write-in candidate, fill in the appropriate oval and write in the candidate's name.
»
Do NOT fold your ballot.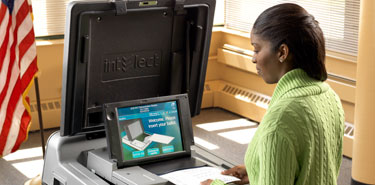 3 | Scan Your Ballot
»
Take your ballot and voter card to the scanner area.
»
Select your language of choice by touching the corresponding button on the screen.
»
Insert your marked ballot into the scanner to cast your vote. The scanner accepts ballots in any direction and reads both sides. The scanner will notify you when your vote has been cast.
WRITE-IN VOTING
If you want to vote for a candidate who is not listed on the ballot, you must:
completely fill in the oval in the area provided for write-in candidates and
write or stamp the name of the candidate in that same box.
USING THE BALLOT MARKING DEVICE (BMD)
The BMD provides two ways for voters to access the ballot:
See the ballot on the display screen
Listen to the ballot through audio headphones
The BMD provides four ways for voters to mark the ballot:
Touch Screen
Key Pad (Braille)
Sip & Puff Device
Rocker Paddle
Follow these steps to mark your ballot using the BMD:
Decide how you will access and mark the ballot.
Insert your ballot into the feed tray.
Select your preferred language.
The BMD will guide you through the process of making your choices and reviewing your selections.
To change a selection, select the contest or issue you would like to change and reselect the proper choice. Select "NEXT" to return to the summary screen.
Select "Mark Ballot" to print your marked ballot.
Take your printed ballot and voter card to the scanner area.
If you would like assistance inserting your ballot into the scanner, a poll worker will assist you.