Democratic
* If there is an asterisk next to a candidate's name, s/he did not submit a profile or record a video.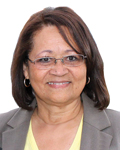 Joan Flowers
Party Enrolled In: Democratic
Current Occupation: Practicing attorney and local business owner
Previous Occupation(s): Attorney
Education: FIT; St. John's University, School of Law
Organizational Affiliations: Allen Lawyers Guild; Queens County Bar Association; Macon Allen Black Bar Association
Prior Public Experience: Elected State Committeewoman
1. What is the most important issue in Council District 27 you would address if elected?
I advocate the highest quality education for all our children that deserve the 7.7 billion federal dollars owed to our local schools. I will fight for directing these monies for teacher professional development, up-to-date classroom textbooks, in-class technology equipment and the highest quality teachers our children deserve.
2. What other important issues would you address if elected?
I'm a 30 year local entrepreneur that has birthed one of the largest employee institutions in the community. I will fight for local community empowerment that would include additional tax credits and incentives for local business development.

When elected, I will fight for the necessary safety in our neighborhoods and environment. The NYPD must focus their efforts in combating crime in high crime reported areas.
3. What makes you the best candidate for this office?
I'm a long-time community resident, small business owner, community advocate and practicing lawyer for over 25 years. I have served this community working with local senior citizen organizations, local schools and non profit community organizations to improve the quality of life and access to all needed resources for all our people. I will bring this experience and community commitment to City Hall.
Reprinted as supplied by the candidate. Not participating in the NYC Campaign Finance Program.
This Guide lists all candidates who appear to be on the ballot for the primary election based on the latest information obtained from the New York City Board of Elections, even if a candidate did not submit a profile or record a video for the Guide. Profiles and video scripts were submitted to the CFB by the candidates and are reprinted as supplied, except in the case of egregious errors and minor formatting issues, which may be corrected by the CFB. Videos appearing in this Guide were recorded and approved for broadcast by the candidates. All the candidates have affirmed under penalty of perjury that the information in their profiles and videos is true to the best of their knowledge. Website and social media links were supplied by the candidates. The CFB is not responsible for non-working links, although it does correct or remove them to the extent practicable. The CFB removes links that are not campaign-related.
The views expressed in the candidate profiles, videos, and linked materials do not represent those of the New York City Campaign Finance Board.
View Candidate Submission Disclaimer