Democratic
* If there is an asterisk next to a candidate's name, s/he did not submit a profile or record a video.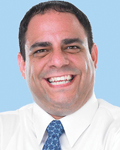 Costa Constantinides
Party Enrolled In: Democratic
Current Occupation: Deputy Chief of Staff, NYC Council
Previous Occupation(s): Legislative Director, NYC Council; Store Manager, KB Toy Stores, Adjunct Lecturer, Queens College
Education: Graduated from P.S. 84, P.S. 122, and Bryant High School. Graduated Cum Laude from Queens College, and received a law degree from Cardozo Law School.
Organizational Affiliations: Democratic District Leader, United Community Civic Association, Asgata Association, Long Island City Alliance
Prior Public Experience: Legislative Director, NYC Council
1. What is the most important issue in Council District 22 you would address if elected?
We must work together to create a better and safer Western Queens. That means hiring more police officers and fire fighters to build a safer community, and improving access to health care by expanding Mt. Sinai Hospital. It means eliminating overcrowding in public schools, and expanding public transit options. As your city councilman I will fight everyday for the people of Western Queens.
2. What other important issues would you address if elected?
As a father, I care deeply about improving our community's environment. I will work hard to reduce air pollution from dirty power plants and protect our drinking water from hydrofracking. I will also work to expand and improve Western Queens' green space.
3. What makes you the best candidate for this office?
I grew up in this neighborhood, and I have a story for every corner. Now that I'm raising my own family here, I want to ensure that this is the best neighborhood in the city. As a District Leader, I helped save the Grand Avenue Post Office, improved traffic safety, and protected valuable schools and education programs. As a member of the UCCA, I've worked for responsible development and to protect our environment and quality of life. As a City Council staffer I worked to pass legislation to reduce air pollution and improve our drinking water quality. As your City Councilman, I will bring that experience and proven leadership to fight every single day for a better, safer community.
Reprinted as supplied by the candidate. Participating in the NYC Campaign Finance Program.
This Guide lists all candidates who appear to be on the ballot for the primary election based on the latest information obtained from the New York City Board of Elections, even if a candidate did not submit a profile or record a video for the Guide. Profiles and video scripts were submitted to the CFB by the candidates and are reprinted as supplied, except in the case of egregious errors and minor formatting issues, which may be corrected by the CFB. Videos appearing in this Guide were recorded and approved for broadcast by the candidates. All the candidates have affirmed under penalty of perjury that the information in their profiles and videos is true to the best of their knowledge. Website and social media links were supplied by the candidates. The CFB is not responsible for non-working links, although it does correct or remove them to the extent practicable. The CFB removes links that are not campaign-related.
The views expressed in the candidate profiles, videos, and linked materials do not represent those of the New York City Campaign Finance Board.
View Candidate Submission Disclaimer