Help shape the future of our city and state by voting in this year's general election!
It is a major election year in New York City, with races for congressional seats, state Senate and Assembly, and governor. This online guide contains important voter information, including candidates' website and social media links, to help you cast an informed vote.
The guide also covers three state ballot proposals you will approve or reject on November 4th. It provides extensive information about each proposal, including the impact it will have if it passes, reasons to vote yes or no, and statements from individuals and organizations who support or oppose it.
Need more information about how and where to vote? Look under the All About Voting tab above for frequently asked questions and more.
For more information on judicial races in the general election, visit the Judicial Campaign Ethics Center's judicial voter guide. To view profiles submitted by federal and state candidates, visit the League of Women Voters' guide at www.vote411.org.
Stay up to date on city elections — follow NYC Votes on

, like us on
, or sign up for election alert emails today!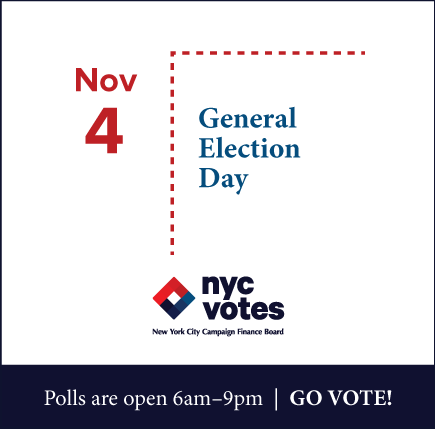 Find Your Candidates!
Enter your address to view the candidates who you can vote for in your district.