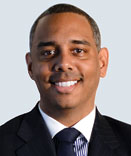 Ruben Wills
Democratic
PARTY ENROLLED IN: Democratic
CURRENT OCCUPATION: Council Member
PREVIOUS OCCUPATION(S): Small business owner, consultant
EDUCATION: Degree in Social Sciences Sullivan County Community College, NY; Graduate Studies in Political Science and Urban Planning (MPP), Empire State College, NY
ORGANIZATIONAL AFFILIATIONS: NAACP, Christian Basketball League Inc, New York 4 Life, Inc, Merchants Alliance
PRIOR PUBLIC EXPERIENCE: Chief of Staff; Sen. Shirley Huntley, 10th Senatorial District; Special Assistant to Council Member Leroy Comrie, 27th District
Contact my campaign: rubenwills2010@gmail.com
On the Web at: http://www.rubenwills.com
On Facebook at: Ruben Wills
Contact information was provided by the candidate.
Read a transcript of this video in English.
Leer una transcripción de este video en español.
請查閱本視頻中文譯文。
이 동영상 내용을 한국어로 읽으세요.
1. What is the most important issue in Council District 28 you would address if elected?
One of the most important issues that impedes our growth is the lack of sustainable and long term economic development. By addressing the void of economic development and bringing more and better job opportunities, the benefit will result in a decrease in crime and an overall increase in the quality of life enjoyed by everyone.
2. What other important issues would you address if elected?
Homeless shelters that pop up almost overnight in the district is a concern. This creates an undue burden and over-saturation of shelters in one area and that is not fair. I plan to introduce legislation that would ensure that all districts in the city are assuming the responsibility of protecting our vulnerable homeless population and not just some districts.
3. What makes you the best candidate for this office?
My history in this community has made me sensitive to the issues. I have been in elected office less than a year and during my short time in office, we have fought the cuts to our senior and daycare centers and won; held the city accountable for failing to inform our neighborhood of a new men's shelter with registered sex offenders; fought the closures of PS 30 and August Martin High School — and won the fight to keep PS 40 open.
(Reprinted as supplied by the candidate.)
Participating in the Campaign Finance Program.
View Candidate Statement Disclaimer