State Constitutional Convention: Yea or Nay? Have Your Say!
08/11/2017
Submit a statement informing voters why they should vote "Yes" or "No" for a Constitutional Convention.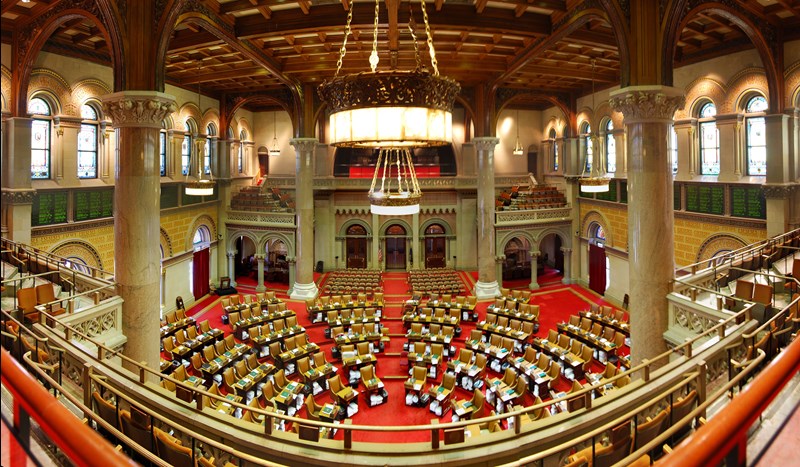 New York State Assembly Chamber (photo by Matt Wade via Flickr)
When New Yorkers head to the voting booth in November there will be three statewide proposals included on the ballot. If you've got an opinion, you've got an opportunity to share it right now and convince your fellow New Yorkers to cast a vote.

The proposal that has been most-discussed is the question of whether holding a convention to examine and amend the New York State Constitution, and the CFB is gathering information to help voters cast a well-informed vote on this important issue.

We need your help! We are putting out a call to any and all organizations and individuals who are advocating a yes or no vote to submit a brief statement to be included in the official NYC Voter Guide.

The CFB is also collecting public comments on the other two ballot proposals – whether to allow the forfeiture of pensions from public officials who've been convicted of a felony related to their duties, and a proposal to authorize the use of forest preserve land for specific purposes.

Your instructions: in 200 words or less, clearly state your support or opposition to the state convention proposal, and include reasons why New Yorkers should vote either yes or no. In order for a statement to be submitted, one must provide their name and/or the name of their organization. Anonymous statements will not be considered.

All accepted statements will be posted on our website as part of our voter education efforts for the 2017 elections, and will inform our in-depth coverage of the proposal in the print and online editions of the Voter Guide, New York City's trusted, nonpartisan voter resource since 1989.

Make your voice heard on the Constitutional Convention! Submit a statement to let voters know why they should vote "Yes" or "No" this November!

Not sure where you stand? If you're interested in learning more about the Constitutional Convention, consider attending this public event sponsored by Civic Hall: http://bit.ly/2uH0kqX

Submit your statement today at www.nyccfb.info/pro-con-solicitation!