Introducing the Finalist Designers in the NYC Votes "I Voted" Sticker Contest
04/27/2017

The NYC Votes "I Voted" Sticker Contest is now underway! The winning sticker will be distributed to New York City voters starting the day of the primary election on Tuesday, September 12, 2017. Worn by proud voters on Election Day, "I Voted" stickers are one of the best ways for New Yorkers to show that they care about the future of our city.
The public will be selecting their three favorite stickers in order of preference from a list of ten finalists from now until 9 pm ET on Tuesday, May 9. The talented designers behind each of these designs are listed below in alphabetical order, along with a one-sentence description in their own words about their design and links to their art portfolios and social media profiles.
The winning sticker will be printed by the NYC Campaign Finance Board and distributed at poll sites in partnership with the NYC Board of Elections.

Here are all the finalists: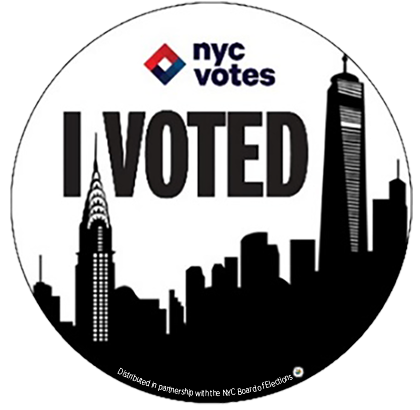 "Your City Needs You To Vote. Be Heard. Make It Count." -Dani Berger, 50, from Manhattan djbnyc.info/portfolio.html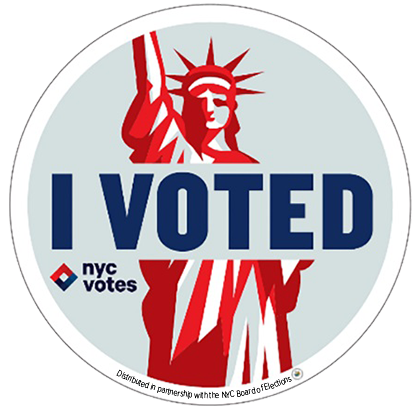 "My sticker design is bold, iconic, and highly recognizable, so New Yorkers can spread a feeling of pride and belonging after having cast their votes." -Nina Boesch, 38, from Brooklyn | @ninaboesch | metrocardcollages.com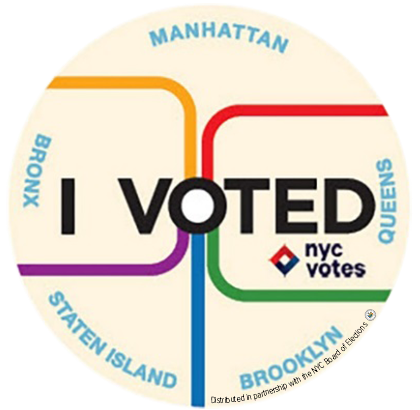 "All the people of the boroughs meet together, pass each other, need each other in the subway and the voting booth." -Marie Dagata, 59, and Scott Heinz, 56, from Bronxville, NY | @dagatamarie | behance.net/scott_e_heinz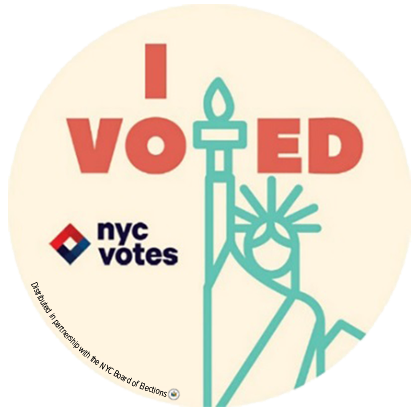 "We used the Statue of Liberty, an iconic symbol of both New York City and democracy, and incorporated it into the sticker's message in a way we felt any and all New Yorkers would be proud to wear." -Mark DeRose, 31, and Trenton Kenagy, 39, from Manhattan | @thoughtmatter | thoughtmatter.com




"No matter what shape, size, or color, New Yorkers vote with liberty and justice for all." -Rajiv Fernandez, 31, from Brooklyn | @lil.icon | lil-icon.com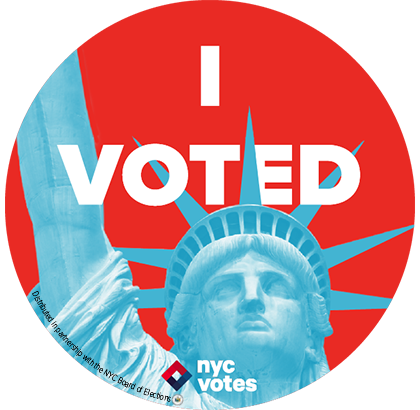 "Boldly wear Lady Liberty as she guides our city and our nation: a constant reminder of hope, freedom, opportunity, and democracy." -Lian Fumerton-Liu, 24, from Brooklyn | @lianreay | lianreayfumerton-liu.com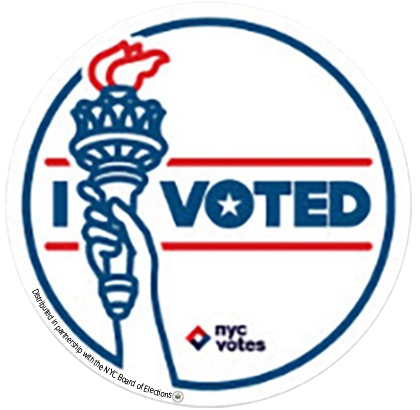 "I thought it was important to keep the design simple yet prideful for New Yorkers who proudly exercise their responsibility to vote." -Brendan Gargano, 31, from Kansas City | coroflot.com/brendangargano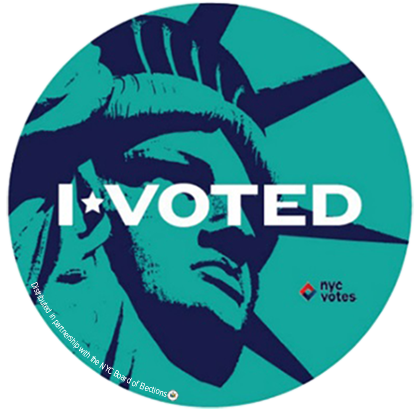 "I wanted to capture the bold spirit of New York and the pride New Yorkers feel after they vote." -Daniela Masiello, 33, from Queens | danielamasiello.com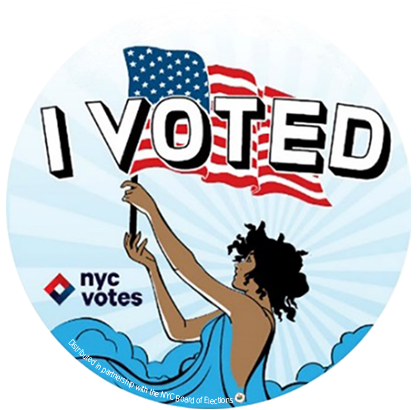 "A voter raises the American flag with pride having just exercised her right to vote." -Meg Moorhouse, 39, from Brooklyn | @loveandvictory | loveandvictory.com




"The sticker design uses a typeface commonly seen by New Yorkers, a patriotic color palette, and the Y forms a check mark, signifying a vote." -Ida Woldemichael from Harlem | idawoldemichael.com

NYC Votes is the nonpartisan voter engagement initiative of the NYC Campaign Finance Board, which will print the stickers and provide them to the NYC Board of Elections for distribution to voters on Election Day. But that's not all we do! Follow us on Instagram, Facebook, and Twitter for all the latest news about city elections, and sign up here for more information and to volunteer.
-30-